covid 19 vaccination facts and fiction
Covid-19 Vaccination - Facts and Fiction
06-15-2021 5:00 PM - 06-15-2021 6:30 PM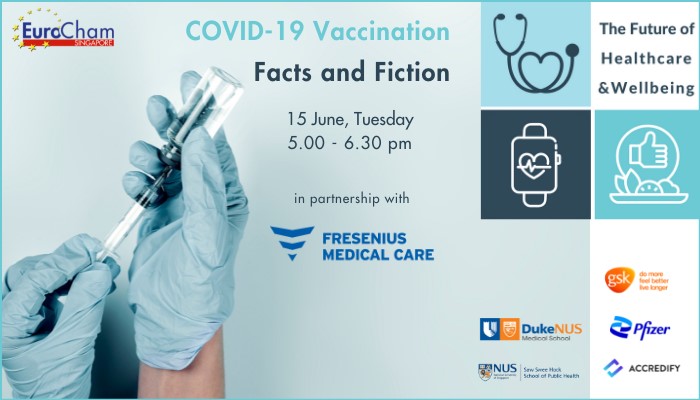 The organisers reserve the right to change the programme content without giving prior notification or any reasons thereof.
Registration fee
EuroCham Members: Free
Non-Members: Free
Synopsis
Singapore is in the process of rolling out the vaccination program, which started with frontline healthcare professionals and has now moved onto senior citizens. During the course of this programme, it is expected to cover the majority of the population living in Singapore.
Many people will be considering whether the vaccination is suitable for them or not. Singapore, in some ways, could also be a victim of its success in managing the pandemic, which may lead some residents to think that they may not need to get the vaccine as community infections are negligible.
In this context and the exceedingly polarised global debate around vaccines in general and COVID-19 vaccination in particular, there is a real risk that people may be making vaccination decisions based on incorrect, insufficient or irrelevant information.
To combat this and to support the Ministry of Health Singapore in its vaccination drive, the EuroCham Healthcare committee in partnership with Fresenius Medical Care are proud to bring together a variety of stakeholders to discuss the issues related to COVID-19 vaccination and provide clarity of facts to combat inaccurate information or misperceptions in the public domain.
Programme
4.45 pm Webinar Waiting Room Opens
5.00 pm Welcome Remarks by Mr Anbu Srinivasan, Chair of EuroCham's Healthcare Committee
5.05 pm Dr Michael Etter, Chief Medical Officer, Fresenius Medical Care
5.25 pm Dr Sanjoy Datta, Vice President Medical & Clinical – Greater China & Intercontinental, GSK Vaccines
5.35 pm Dr Amgad Gamil, Senior Director, Medical & Scientific Affairs, Emerging Markets, Vaccines, Pfizer
5.45 pm Moderated Panel Discussion and Q&A by Professor John Lim. Executive Director, Centre of Regulatory Excellence, Duke-NUS Medical School
· Dr Michael Etter, Chief Medical Officer, Fresenius Medical Care 
· Dr Sanjoy Datta, Vice President Medical & Clinical - Greater China & Intercontinental, GSK Vaccines
· Dr Amgad Gamil, Senior Director, Medical & Scientific Affairs, Emerging Markets, Vaccines, Pfizer
· Professor Hsu Li Yang, Vice Dean (Global Health) and Programme Leader (Infectious Diseases), NUS Saw Swee Hock School of Public Health
· Mr Simon Gordon, Deputy Director of SGInnovate's Venture Investing team and currently seconded to Accredify 
6.25 pm Closing Remarks